28 March 2022
A transformational year characterized by several remarkable milestones and bold steps throughout the LEO Group. A year that was rounded off with philanthropic grants totaling DKK 163 million and a significant return of DKK 2,138 million on LEO Foundation's investing activities.
The Annual Report 2021 provides highlights of the LEO Foundation's three overarching areas: philanthropic activities, financial investments and engaged ownership.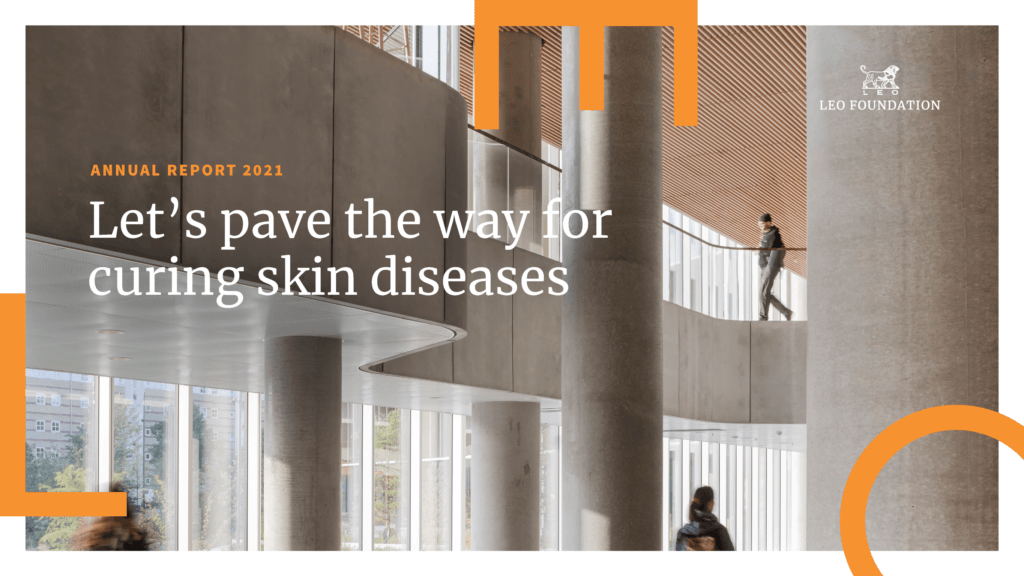 Philanthropic activities
The LEO Foundation's overarching philanthropic commitment is to support skin research of the highest quality, in order to discover more about the skin, skin diseases and skin health.
In 2021, the LEO Foundation's philanthropic support for skin research increased considerably to DKK 163 million, compared to DKK 72 million in 2020.
The LEO Foundation continued its support of existing grantees, whose research may have been impacted by COVID-19.
Financial investments
The main objectives of the LEO Foundation's financial investments are to ensure continued financial capability to support LEO Pharma's long-term continuation and strategic development, as well as provide funds for the Foundation's philanthropic activities.
In 2021, the LEO Foundation's investing activities delivered a significant return of DKK 2,138 million, compared to DKK 968 million in 2020.
During the year, we strengthened the ESG profile of the financial portfolio by adding an ESG-screened mandate – with a particular focus on human rights – on Emerging Markets Debt.
Engaged ownership
The LEO Foundation is the controlling shareholder of LEO Pharma. As an engaged owner, we aim to provide the company with the best possible platform for long-term development and success. Over the past years, we have carefully considered how to best support LEO Pharma's long-term objectives and ambitious growth strategy. This led to the decision to expand LEO Pharma's shareholder base. The LEO Foundation continues to be the majority owner of LEO Pharma.
In July 2021, a transaction was concluded with Nordic Capital, one of the most active and experienced investors in healthcare globally, which invested EUR 450 million for a minority stake in LEO Pharma.
LEO Pharma
LEO Pharma took bold steps to deliver on its 2030 strategy and, importantly, received approval for tralokinumab in the EU and the US, bringing a new treatment to people suffering from moderate-to-severe atopic dermatitis. Its launch is expected to be an important driver of development in years to come and marks a major milestone for the company.
Revenue at LEO Pharma decreased by 1.7% from DKK 10,133 million in 2020 to DKK 9,957 million in 2021. The lower revenue was the result of the divestment of four non-core products in December 2020. Excluding the divested products, revenue grew by 5%.
Operating loss before interest and tax (EBIT) ended at DKK 4,156 million. This reflects a significant loss that was particularly related to the high planned investment in the launch of tralokinumab, as well as impairment of intellectual property and continued high investment in R&D activities.
The full LEO Pharma results are available in the LEO Pharma Annual Report 2021 on the company's website.
"It has been a transformational and challenging year throughout the LEO Group, and a year with notable milestones that have set us up well for 2022. Thank you to all LEO Group colleagues and board members, members of the skin research community who sit on our scientific funding committees, and to everyone whose work was supported by the LEO Foundation in 2022. It is your dedication that paves the way for curing skin diseases."

Peter Haahr, CEO, the LEO Foundation
About the LEO Foundation
The LEO Foundation is one of Denmark's largest commercial foundations and an engaged majority owner of the pharmaceutical company LEO Pharma. The Foundation's main objective is to ensure the company's long-term development and success. Besides the ownership, the Foundation provides philanthropic grants with the aim to support the best international research in skin diseases and make Denmark a global beacon for skin research.
The top photo shows the hallway of the Maersk Tower at the University of Copenhagen, where the LEO Foundation Skin Immunology Research Center is based. A landmark in Copenhagen, the Maersk Tower is a research building that provides the optimum setting for world-class health research. Photo: C.F. Møller Architects/Adam Mørk