25 Mar 2021
In 2020, the LEO Foundation awarded DKK 72 million to research into the skin and its diseases, LEO Pharma delivered significant strategic progress and accelerated R&D efforts while meeting its operating profit goals and return on the Foundation's financial investments ended at solid DKK 968 million.
The Annual Report 2020 provides highlights of the LEO Foundation's three overarching areas: philanthropic activities, engaged ownership and financial investments.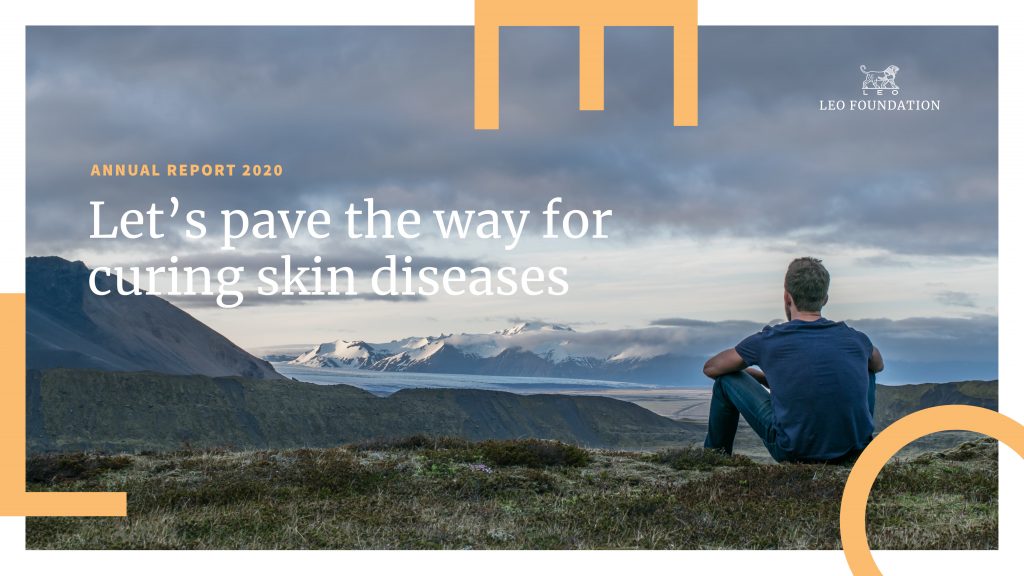 Philanthropic activities – an extraordinary year for science and research
In 2020, the LEO Foundation awarded DKK 72 in independent research grants to researchers around the world dedicated to improving the understanding and treatment of skin diseases. Total payout was DKK 87 million.
Early in 2020, it became clear that COVID-19 would have a significant impact on the Foundation's grantees' activities, which were affected by restrictions, and by research laboratories and universities being closed for months. During the year, the Foundation reached out directly to all grantees with the message that the Foundation would stand by them during these difficult times – not least by offering additional funding to cover delays and other impacts.
Engaged ownership – a new partnership to further strengthen LEO Pharma's leading position in medical dermatology
2020 was also a year where the LEO Foundation developed its engaged ownership of LEO Pharma and paved the way for a new ownership model to provide the best possible conditions for the company's journey to become a global leader in medical dermatology.
The process was initiated in mid-2020, and recently, in 2021, the Foundation welcomed Nordic Capital, a leading global healthcare private equity investor, as an active minority owner and partner to the Foundation providing the company with the best possible platform to deliver on its ambitious 2030 strategy. Nordic Capital will invest EUR 450 million in LEO Pharma and support the 2030 strategy in partnership with the LEO Foundation who will remain the company's majority shareholder.
The partnership with Nordic Capital is a strong confirmation that LEO Pharma is an exceptional company with a valuable heritage in topical dermatology that has clear potential to grow into a leader in innovative therapies.
Highlights: LEO Pharma delivered on strategic ambitions and showed resilience during COVID-19
In 2020, LEO Pharma launched its 2030 strategy with the ambition to be a global leader in medical dermatology by building on its unique dermatology heritage and developing a strong pipeline.
Revenue ended at DKK 10,133 million, which is a decline of 6% compared to 2019, mainly caused by COVID-19.
Strategic psoriasis products Enstilar ® and Kyntheum® continued to grow and gain market share.
In response to COVID-19, LEO Pharma successfully implemented a plan to ensure safety and corporate responsibility, continuity of supply, and continuity of strategic projects.
LEO Pharma's R&D pipeline progressed and achieved several important milestones, in line with the ambitious 2030 strategy. A key milestone was the announcement of positive phase 3 results for tralokinumab, enabling the company to prepare for the 2021 global launch.
Despite a decline in revenue and continued investments in the R&D pipeline and global launches, LEO Pharma exceeded its profitability targets through building and agile, simple and efficient organization and a gain from the divestment of non-core products to Cheplapharm.
The full LEO Pharma results are available on the company's website.
Strong return on financial investments despite roller coaster impact
The COVID-19 pandemic triggered a highly volatile year on the capital markets, but despite uncertainty and surprises, the LEO Foundation's return on financial investments ended at a solid DKK 968 million or 6.5%, with all the main asset classes – equities, credit (including currency hedging), government and mortgage bonds, and alternatives – contributing positively. The Foundation's total financial assets were DKK 15,861 million at year-end.
The long-term investment horizon, a diversified portfolio and a well-balanced risk profile provided the basis for a very satisfactory result at year-end. Furthermore, the Foundation strengthened its ESG profile of the investment portfolio and focused on promoting responsible tax behavior in relation to unlisted investments by subscribing to the Tax Code of Conduct established by four major pension funds.
Let's pave the way for curing skin diseases
"Looking back at 2020, I think it is fair to say, that is has been a very remarkable year for the LEO Foundation and for all areas of the LEO Group. 2020 turned a new page in the impressive 400 years of LEO history and at the same time confirmed that we have a unique heritage and a strong foundation on which to build the future. We have emerged from 2020 more committed than ever to paving the way for curing skin diseases and creating sustainable value for people and society through engaged ownership, philanthropy and investments", said Jesper Mailind, CEO of the LEO Foundation.
About the LEO Foundation
The LEO Foundation is one of Denmark's largest commercial foundations and an engaged owner of the pharmaceutical company LEO Pharma. The Foundation's main objective is to ensure the company's long-term development and success. Besides the ownership, the Foundation provides philanthropic grants with the aim to support the best international research in skin diseases and make Denmark a global beacon for skin research.